A cinephile? Looking for a laptop for the best Netflix experience? We've got you covered. In this post, we'll explain what types of laptops are great for watching movies, and what features you should look for when buying.
Who doesn't like movies? They are a great source of entertainment, excellent for killing time when you need to. And if you're someone who spends long hours outdoor, you may want to invest in a laptop for outdoor entertainment. But are laptops good for watching movies and Netflix?
Entertainment in a backpack
There was a time when laptop displays weren't very good for watching movies. Most laptops featured low-resolution screens with poor contrast and color accuracy. The audio quality of the in-built speakers wasn't great as well. On top of that, laptops didn't last more than a few hours on the battery.
But nowadays, there are many laptops in the market with high-end 4k displays. Many laptops feature high-quality stereo speakers, and battery backup has also gotten much better. Today, you'll find a lot of laptops that are perfect for watching movies and Netflix on the go.
Things to Look for When Buying
If you want a laptop for watching movies, you'll want to consider a few things before making a purchase. To provide the best movie experience, Your laptop should have a big, high-res screen with excellent color accuracy. You also want decent sound quality and a more-than-average battery backup.
Display
For movies, a bigger display is preferable. If your laptop has a smaller screen (e.g: 13-inch), it may put a strain on your eyes. But a laptop with a large display is also bulkier, which reduces portability. We recommend a laptop with a 15-inch display for a good balance between size and portability. But if you don't care about mobility and want a laptop with a bigger display, get a 17-inch laptop.
As for the resolution, get a 2k or 4k display. At the very least, get a laptop with an FHD monitor.
Audio quality
While it's easy to plug in a pair of headphones for watching movies, you should check the quality of the built-in speakers. A good pair of stereo speakers is pretty common in laptops these days. Many laptop brands feature audio enhancement techs like Dolby Surround in HP laptops, Audio by Harman in Lenovo laptops, etc.
Battery backup
The battery backup of the laptop is also important. You can't always keep your laptops plugged in while watching Netflix. For starters, look for a laptop with at least 6 hours of battery backup.
Portability
If you travel often, the portability of the laptops matters. You don't wanna buy a machine that might potentially cause back pain, do you? Ultrabooks are excellent in this regard. All of them weigh less than 3 pounds and take very little space in a bag.
Even if you don't go for an ultrabook, make sure that your laptop doesn't weigh more than 4 pounds.
Best laptops for watching movies and Netflix
Now let's explore our selections for the best laptops for watching movies. Note that the list is in no specific order. We added various types of laptops so that you can choose one according to your profession or necessity.
CPU: Apple M1 chip
RAM: 8GB
Screen: 13″ Retina Display
Storage: 256GB | 512GB SSD
Battery: Upto 15 Hours
Weight: 2.8 lbs
Pros:
Excellent Keyboard.
Sleek, portable design.
Comes in multiple colors.
Long-lasting battery.
Reasonably priced for a Macbook.
Cons:
Limited port selection.
Screen isn't OLED.
Product Description

All-Day Battery Life – Go longer than ever with up to 18 hours of battery life.
Powerful Performance – Take on everything from professional-quality editing to action-packed gaming with ease. The Apple M1 chip with an 8-core CPU delivers up to 3.5x faster performance than the previous generation while using way less power.
Superfast Memory – 8GB of unified memory makes your entire system speedy and responsive. That way it can support tasks like memory-hogging multitab browsing and opening a huge graphic file quickly and easily.
Stunning Display – With a 13.3" Retina display, images come alive with new levels of realism. Text is sharp and clear, and colors are more vibrant.
Simply Compatible – All your existing apps work, including Adobe Creative Cloud, Microsoft 365, and Google Drive. Plus you can use your favorite iPhone and iPad apps directly on macOS. Altogether you'll have access to the biggest collection of apps ever for Mac. All available on the App Store.
Easy to Learn – If you already have an iPhone, MacBook Air feels familiar from the moment you turn it on. And it works perfectly with all your Apple devices. Use your iPad to extend the workspace of your Mac, answer texts and phone calls directly on your Mac, and more.
Everyone loves MacBooks. They are super user-friendly and provide a polished, all-round experience. So why not buy a Macbook for watching movies?
The Macbook Air 2020 has everything you need from a laptop. Plus it's fairly cheap for a Macbook. Its fan-free design is great if you hate distractions, and its keyboard is amazingly comfortable.
Its 13″ Retina display is sharp, crisp, and bright. Though these days OLED screens are deemed better than IPS ones, Apple's Retina displays can still beat most cheap OLEDs in terms of sharpness and vibrance.
The new 8-Core M1 chip, paired with 8 GB of Unified Memory makes multitasking smooth, and fast. The M1 chips also provide a much better battery life than Intel chips. This machine, for example, is claimed to last more than 11 hours when streaming on wi-fi.
At around 2.8 lbs, the AIR M1 is a portable machine that you can take anywhere.
CPU: Intel Core i5-1135G7
RAM: 12GB
Screen: 15.6 OLED FHD
Storage: 512GB SSD
Battery: 7 Hours
Weight: 3.7 lbs
Pros:
Excellent OLED screen for the price.
HDR-600 support.
Compact look.
Harman Kardon speakers.
Cons:
Average battery life.
Still many bugs.
Product Description

15.6 inch Full HD OLED NanoEdge bezel display with stunning 85% screen-to-body ratio.
Latest 11th generation Intel Core i5-1135G7 Processor 2.4 GHz (8M Cache, up to 4.2 GHz) and Intel Iris Xᵉ Graphics.
8GB DDR4 on board + 4GB DDR4 SO-DIMM RAM and 512GB PCIe NVMe M.2 SSD and Windows 10 Home.
Ergonomic backlit keyboard along with a fingerprint sensor activated via Windows Hello.
Comprehensive connections including USB 3.2 Type-C (Gen 1), USB 3.2 Type-A (Gen 1), USB 2.0, HDMI, and Wi-Fi 6 (802.11ax) (*USB Transfer speed may vary. Learn more at ASUS website).
Comes with Windows 10 and a FREE upgrade to Windows 11 (when available).
The VivoBook 15 is a budget OLED laptop from Asus. Under 1000 bucks, it's currently one of the best laptops you can buy for movies and Netflix.
The Laptop features an 11th gen core i5 processor and 12GB of RAM – sufficient for smooth multitasking.
The bright and vivid display of the Asus VivoBook 15 OLED makes it ideal for binge-watching movies. The ergonomic backlit keyboard is comfortable, and the trackpad is big enough for ease of use.
The battery backup, as reported by a third-party source, is on average with most budget work laptops. When fully charged, you can expect at least 6-7 hours of video playback at low brightness.
At 3.7 pounds, it's a fairly lightweight option. And its compact design also makes it pretty easy to carry in a bag or backpack.
CPU: 11th Gen Intel Core i7-11800H
GPU: Nvidia RTX 3050
RAM: 16GB
Screen: 15.6″ FHD+ OLED Touch
Storage: 512GB SSD
Battery: 8+ Hours
Weight: 2.8 lbs
Pros:
Breathtaking OLED display.
Sleek and compact.
Solid preformance.
Premium Build.
Cons:
Very few ports.
Little heavier.
Expensive.
Product Description

11th Generation Intel Core i7-11800H (24MB Cache, up to 4.6 GHz, 8 cores).
512GB PCIe SSD.
16GB 3200Mhz DDR4 RAM
15.6″ FHD+ (1920 x 1200) InfinityEdge Non-Touch Anti-Glare 500-Nit Display
NVIDIA GeForce RTX 3050 4GB GDDR6 [45W].
Killer Wi-Fi 6 AX1650 (2×2) and Bluetooth 5.1.
6-Cell Battery, 86WHr (Integrated).
Windows 10 Professional.
1 USB 3.2 Gen 2 Type-C with (DisplayPort/PowerDelivery) | 1 3.5mm headphone/microphone combo jack.
2 Thunderbolt 4 (USB Type-C) with DisplayPort and Power Delivery.
The Dell XPS 15 OLED is a premium, ultraportable laptop that features an uncommon OLED display. Its build quality is solid and attractive, with smaller bezels and a very polished look.
The OLED touchscreen display that it features is one of the best in the world, with rich, vivid colors and excellent brightness. Enjoy all your favorite movies in razor-sharp details, and immerse yourself in the imaginary world of Netflix with the Dolby surround audio.
The combo of a high frequency, 11th gen core i7, and 16 GB of RAM provides solid multitasking performance. And the 512 GB SSD storage should be enough to store all your documents and files.
In terms of battery backup, the XPS 13 doesn't break records but sits beside the average ultrabook. You can expect around 8 hours of screen-on time under normal use. Thanks to its slim and ultraportable design and relatively low weight of 2.8 lbs, you can carry it easily in a backpack or handbag.
CPU: Intel Core i7-1165G7
RAM: 16GB
Screen: 13.3″ 4k OLED Touch
Storage: 512GB SSD
Battery: 10+ Hours
Weight: 2.8 lbs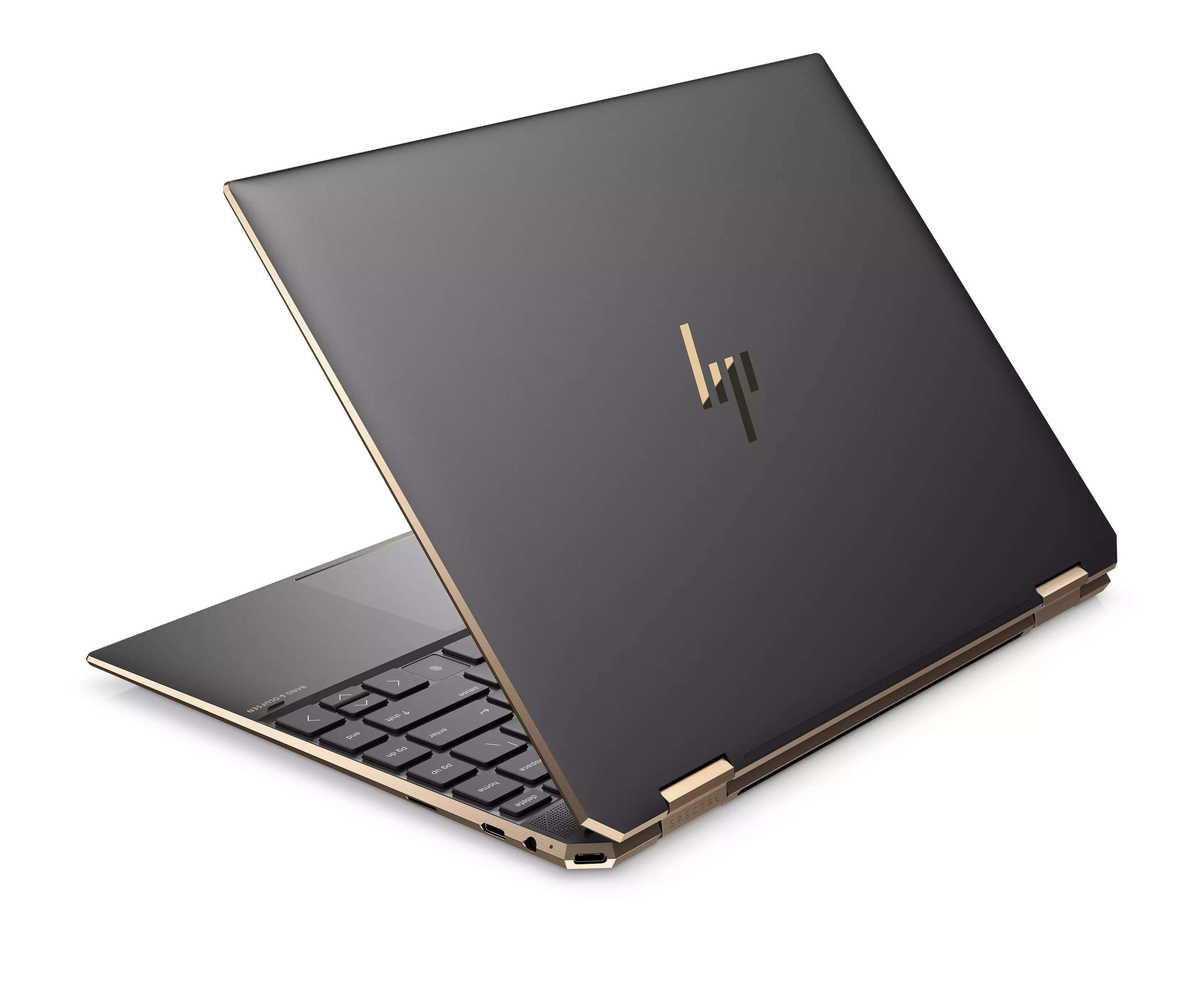 Pros:
Stylish design.
Lightweight.
Crisp and bright OLED screen.
Touch support with pen included.
Product Description

Power At Your Fingertips: With the Spectre x360, you're never short on processing power. This convertible laptop is kitted with the 11th Generation Intel Core i7-1165G7 (up to 4.7 GHz, 12 MB L3 cache, and 4 cores) and the AI-powered Intel Iris Xe Graphics. This processor is up to 33% more powerful than its predecessors and is arguably the most efficient CPU of its time. Our touchscreen PC also has Intel Wi-Fi 6 AX201 (2×2) and Bluetooth 5 combo that supports gigabit file transfer speeds.
Dazzlingly Display 4K OLED: See everything in amazing detail at UHD resolution. Enjoy a high-quality 13.3" touchscreen IPS panel that offers crisp visuals; thanks to HP's BrightView technology w/ anti-reflection. The display has edge-to-edge glass for smaller bezels & can produce 400 nits of brightness. ALSO included is a Super Sleek & cool 64GB ULTRA SLIM Tech Warehouse USB Flash drive. A speedy little performer with a great look! This stunning Night fall black laptop weighs only 2.8 lbs!
A Masterpiece for Multitaskers: Designed for reliability, our HP Spectre laptop is equipped with 16GB of memory so you can multitask without lags or delays. The Spectre 13T x360 has a high-speed PCIe NVMe M.2 SSD with 512 GB capacity. The laptop also comes with a full-size island-style backlit keyboard, HP TrueVision HD IR camera with dual array digital microphone, a rechargeable HP MPP 2.0 tilt pen for flexibility, and a lasting 4-cell 60wh Li-Ion polymer battery that can withstand heavy use.
Ready For Use Out Of The Box: Once you unbox this 2in1 laptop, all that's left to do is turn it on and start using it! HP has already preinstalled this convertible computer with the 64-bit version of Windows 10 Home for your convenience. We're also including a one-year subscription to Microsoft 365 Personal, a 60-dollar value that you're getting for free! Microsoft 365 Personal provides access to Word, Excel, PowerPoint, Outlook, and 1 TB of OneDrive Cloud for all your office and personal needs.
Built With Utility & Privacy In Mind: This laptop has 2 Thunderbolt 4 USB4 Type C ports with 40 Gbps signaling rate and 1 SuperSpeed USB Type-A port (5 Gbps signaling rate) with HP Sleep and Charge. That's all on top of its 3.5 mm headphone/micr jack combo, and microSD card reader. For audio, the laptop has dual speakers powered by Bang & Olufsen and HP Audio Boost. Security-wise, it's built with a mic mute key, webcam kill switch, and trusted platform module(TPM) support. It has no CD/DVD drive.
The HP spectre x360 is a convertible Ultrabook designed for professionals and businessmen alike. It's like most 2-in-1 laptops in the market, but its 13-inch FHD OLED screen makes a true difference. It's a great choice if you need a laptop for both movies and work.
The OLED panel delivers excellent image quality, with bright, vivid colors with excellent clarity and crispness. The touchscreen is perfect for graphic designers and artists to work in photoshop or illustrator.
The combo of 11th gen Intel Core i7 and 16GB of RAM delivers an excellent multitasking experience. At around 2.8 pounds it's pretty lightweight as well as portable in size.
The battery backup of all Spectre x360s is excellent. And this model is no different. You can expect at least 10 hours of screen-on time under normal worklaod.
CPU: AMD Ryzen 7 5700U
RAM: 8GB
Screen: 14″ FHD
Storage: 512GB SSD
Battery: Upto 17 Hours
Weight: 2.65 lbs
Pros:
Colorful, bright 3:2 AR display.
Great battery life.
Lightweight.
Clear Microphone.
27% DISCOUNT RIGHT NOW
Cons:
No Touchscreen.
No SD or microSD card slot.
Product Description

Powerful Productivity: AMD Ryzen 7 5700U Octa-Core Processor with Radeon Graphics run your most demanding apps with lightning-fast responsiveness and hyper-efficient battery usage to keep you productive and entertained all day.
Very Visual: Immerse yourself in consistently rich and bright visuals on the 14″ Full HD widescreen LED-backlit 100% sRGB display with 85.73% screen-to-body, 16:9 aspect ratio and narrow bezels.
8GB LPDDR4X on-board memory; 512GB NVMe solid-state drive storage to store your files and media.
Windows Hello with Fingerprint Reader: Biometric fingerprint reader and Windows Hello sign-in options help keep your Acer PC secure.
802.11ax Wi-Fi 6 Dual-Band 2.4GHz and 5GHz featuring MU-MIMO technology.
Bluetooth 5.2.
Acer's PurifiedVoice technology, features enhanced digital signal processing to cancel out background noise, improve speech accuracy and far-field pickup, which not only makes calls clearer, but makes talking to Alexa easier than before.
Using Alexa on your PC is as easy as asking a question. Just ask and Alexa can check your calendar, create lists, play music, answer questions, read the news and more.
The Acer Swift 3 is a laptop designed for everyone – from professionals to students. The latest version features a powerful Ryzen 7 processor and 8 GB of RAM, sufficient for smooth multitasking and the most demanding apps you may use.
The laptop has an unusual, 14″ square display with an aspect ratio of 3:2. The screen is bright and colorful and has a high screen-to-body ratio. The build quality is good for the price, and the keyboard is easy-to-use and comfortable.
The Swift 3 is lightweight, at around 2.6 lbs. Its square design also takes less space in the backpack, saving room for other college stuff. Plus, its battery backup is insanely amazing. You can expect more than 12 hours of screen-on time under normal use.
CPU: AMD Ryzen 9 5900HS
GPU: NVIDIA GeForce RTX 3080
RAM: 16GB
Screen: 15.6" IPS 1440p 165Hz
Storage: 1TB SSD
Battery: 9 Hours
Weight: 4.2 lbs
Pros:
Excellent RTX performance.
Outstanding battery life.
Smooth 165Hz Display.
Classy Design.
Great speakers.
Cons:
No Webcam.
Tenkeyless keyboard.
Product Description

NVIDIA GeForce RTX 3070, With ROG Boost up to 1290MHz at 80W (85W with Dynamic Boost), Backed by 8GB GDDR6 dedicated video memory for an ultrafast, advanced GPU to fuel your games.
15.6-inch,QWHD (2560 x 1440) 16:9,300-nits, 1000:1 Contrast, 100% DCI-P3, Refresh Rate: 165Hz, 3ms response time, IPS-level.
AMD Ryzen 9 5900HS 8 Core – 16 Thread Processor, 3.0 GHz (Max Turbo Frequency 4.6 GHz), 16 MB Smart Cache.
This computer has the required specs to run Virtual Reality hardware and software and is compatible with Oculus Rift, HTC Vive, and Windows Mixed Reality Ultra.
【Weighs 4.21 lbs. and measures 0.79″ thin】Thin and light for maximum portability, featuring a 15.6″ screen size and omitting the DVD/CD drive to achieve the compact form factor. 4-cell lithium-ion battery.
Solid Performance, outstanding battery life, and compact design – this is ROG Zephyrus G15 in short. Thanks to the combo of Ryzen 9 and RTX3070, you get desktop-level gaming performance.
The 15-inch, superfast gaming display is Excellent in terms of sharpness and color accuracy, and scores fairly in terms of brightness. Along with its clear stereo speakers, it's a perfect machine for Cineholics in need of a capable machine for gaming and work.
We also loved the classy, non-kiddo design. It doesn't scream for attraction, but you can say it's a gaming rig from one look. Its compact form factor is great for carrying in the backpack. And it only weighs 4.2 pounds, less than most gaming rigs with an RTX3070 chip.
The ROG Zephyrus G15 has a 90WHr battery with fast-charging support. Under normal workload, the laptop ran for almost 9 hours. So you can easily spend a day without looking for an outlet.
Conclusion
Laptops are a great source of entertainment. But this very nature can be a problem sometimes. While movies are excellent for passing leisure, they can pretty fast become an addiction. We know a lot of people, especially students who spend night after night watching Netflix series and movies.
It's a good thing that you love movies. they teach us things about life, society, and more. But don't ever let the love become the drug!